My second day on beautiful Sao Miguel gets off to a foggy start … but of course that doesn't stop me from exploring!
Saturdays, as in many islands, are the busiest market days, so off we are  – that is my wonderful host José-Maria and me  –  for some #MARKETing in Ponta Delgada, the island's capital.
I love markets and indulging in the cultural experience. To my surprise, everything is HUGE here…except for José-Maria and me… Well, and the pineapples for that matter 🙂
We stroll across the market and as I learn about typical produce, José-Maria enjoys sharing funny stories about his fellow islanders. Walking and talking in the heat gives us an appetite so we stop for some food right by the harbor and I'm happy to find at least a vegan salad – not a given here, as I learned rather quickly upon my arrival.
All fed and content, we continue our island tour along the South shore, meet locals, enjoy the sea and each other's company…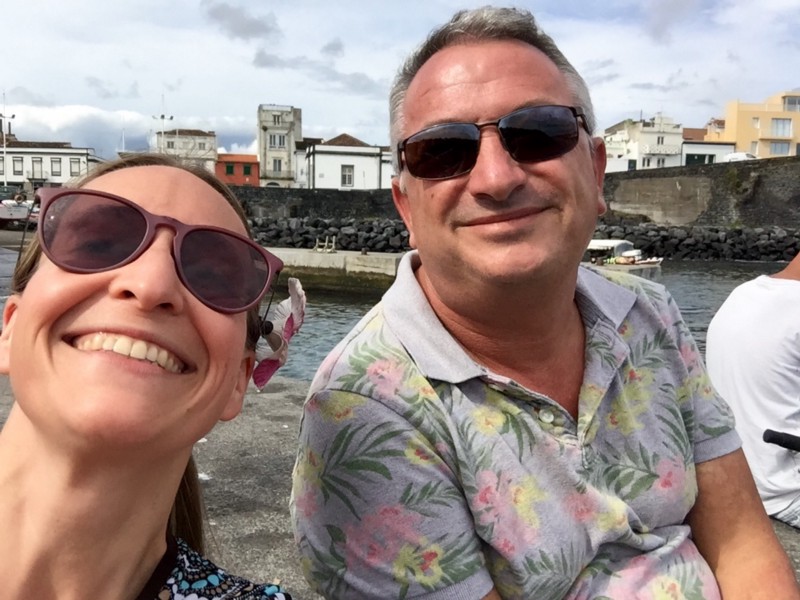 After hours of exploring the rich wildlife, a cooling dip in the Atlantic waves and numerous espresso stops along the way, we make our way back home. Back home. Two words I'm saying so naturally although I just arrived here two days ago. But as I keep saying, home is where my heart is and right now it is right here!

«At home»  –  under the watchful eyes of a curious cat – José-Maria turns out to be not just a wonderful host and island guide but also a very skilled (part-time vegan) cook! Under the watchful eyes of now 2 curious cats, he cooks up a storm and serves a delicious vegetable curry made with the local goodies we bought at the market earlier…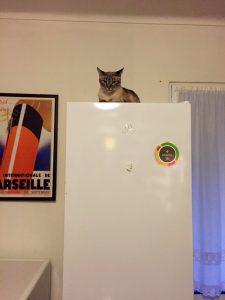 Nurtured, tired and content we are actually tempted to go to bed right away… but don't and head to a festival in a town nearby instead. Parking in itself turns out to be quite an adventure, as the entire islands seems to have gathered here for the event. As we finally reach the fully neon-lit church in the center, José-Maria finds out that the famous Brazilian band he came for has been replaced by the local «singer» Pedro, who gives his all. Unfortunately, he just can't sing. But nobody cares because after all it's not a flawless performance but a fun night with food, drinks and wonderful people that makes for lasting memories!
—
This is an edited "mostly text version" of an original picture story, the original publication incl. pictures can be found here: https://medium.com/tinytravels/azores-day-2-dfd9537b47e4