283 days… That's how long I've been missing Athens. Its vibe, its people and just its unique atmosphere! You think I'm nuts? Well apparently a lot of people do or as a dear Greek friend of mine in Berlin put it: "Not even the Athenians like Athens!" ? Oh well, what do I care – we (that is my partner and I) fell in love with this crazy city the very first moment we set foot in it!
All the right reasons to return for a spontaneous birthday trip this year – that and the fact that there is soooo much wonderful vegan food to be checked out, which we missed out on last time… because unfortunately we didn't know back then that Athenians tend to leave Athens in August and consequently a lot of businesses – including the vegan eateries – are closed during that time. Of course we travelled in August. ?
As I am the queen of procrastination, I haven't written anything about our first trip yet so let me fill you in on some highlights…
Must dos for 1st time visitors
Sunshine, history, awesome food and a good time – what else could one possibly want? Of course we did the typical touristy things our first time around… You really have to whether you're a history buff or not. After all you're at the cradle of civilization and democracy.
We saw the Agora, the Acropolis, Hadrian's Library and also the Keramikos Archeological Site – and let me tell you: all of them are worth a visit, especially with the Athens combination ticket, which gives you access to all the above mentioned for €30. The ticket is good for a duration of 5 days and you can buy it at each of the sites.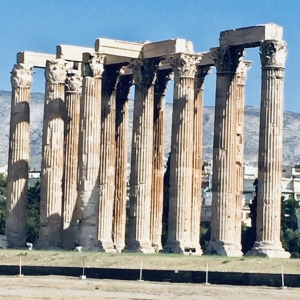 While you're at it you might also want to buy a 5-day pass for the Athens Metro / Public Transport Service. For only €9 it is practically a steal and as you'll be walking quite a bit within the archeological parks, you'll be happy to let the subway take care of the distances between them 🙂 Generally most of Athens is walkable though but if you want to head out to the beach or to Piraeus (the harbor) you definitely need to take a train. Especially if this is your first time in Athens, the 5-day transit pass is a good investment!
Perfect city breaks
The best city beach is to be found at the end of the tram line going South along the coast. It costs €5 to get into this beach area but trust me – it is well worth it! If you want to take a day trip to another island I recommend catching a ferry to Hydra from Piraeus. The ferry system can be a bit confusing for first riders.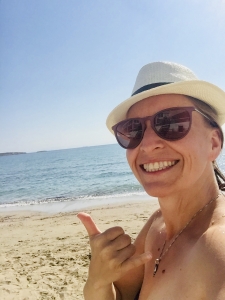 There are lots(!) of companies offering different routes and services. From our experience the lady at the Hellenic counter was the friendliest and most helpful so we booked our day trip to Hydra with her. For our onward journey to Crete we used Let's Ferry because they offered the cheapest service. We did all our bookings spontaneously at the ticket counters at Piraeus. Beware that some routes (especially in high season) require advance bookings. ferries.gr gives a nice overview of different routes and companies.
Are you Athens material? 
Just as the city itself, Athens' plumbing system is old. Very old. As a consequence it doesn't handle toilet paper well and therefore it is normal here to dispose your used TP in a bin instead. But the toilet fun doesn't stop here… Apparently Greeks don't believe in privacy, as lots of restrooms don't have locks at all. So you just shut the door to the best of its ability and pray that you'll have a moment for yourself. So be aware that if you're a person who needs to flush while being locked in, Athens might not be the place for you 🙂
My personal struggle
Our first time around I really struggled with the omnipresent poverty everywhere! Young, old, men, women, children, Greeks, refugees… everywhere you go you will see lost and desperate souls – and many of them are also in a very poor state of health. Obviously it is probably not as bad still as in other parts of this world but this is the most "in your face poverty" that I have personally seen in Europe so far. Whether you're at the beach or in the city center, there will be children and adults begging for food and your attention.
One episode stuck with me as this little girl was trying to sell roses. Obviously I didn't need a rose but I gave her some attention instead… with the result that she jumped me, attached herself to my neck and would not let go! It took the waiter of the restaurant where we were sitting to remove her from me. While I was aware that I can't help everybody I still felt bad and wanted to at least make an effort without supporting addictions of any kind. So I bought bananas. Lots of bananas and started giving them to the homeless and the beggars. To my surprise all of them happily accepted the banana and most even ate it right away.
And what about vegan food?
There is soooo much to say about this topic that I will write a dedicated post about it soon – so make sure to stay tuned. But for now let me say this: Overall we were surprised to see the city more vegan-friendly than we would have ever expected! Veganism isn't exactly the first thing that comes to mind when you think about the Greek cuisine. However, there are quite a few traditional dishes that are either vegan as they are or easily veganizable by just leaving out the feta and/or Tzatziki, which are oftentimes just sprinkled on top or served on the side.
Traditional Greek cuisine
As I mentioned earlier, many of the vegan restaurants were closed last time so we had to veganize our way through the non-vegan restaurants quite a bit: surprisingly all of them were very accommodating! There are 3 traditional dishes that most restaurants have on their menu that are mostly vegan-friendly:
Dolmades: Stuffed vine leafs
Gemista: Stuffed tomatoes and/or bell peppers

Gigantes: Giant beans in tomato sauce
Before you order make sure to clarify very specifically though that you are vegan and list all the things you don't eat! This is important because apparently the meaning of "animal products" is different for a lot of Greeks. I'll never forget the moment when we asked about vegan options in one restaurant. We went through our usual explanation "no meat, fish, eggs, milk, butter, honey etc. " … only to be offered the octopus! As I repeated: "no fish», the lady looked at me rather puzzled and said: "It's octopus. It's not really a fish you know!" While in theory of course she is correct, I think you get my point. Be as specific as you can and list every single ingredient you don't want in your dish. Better safe than sorry!
Quick bites & non-Greek alternatives
We just accepted that it takes a lot of talking and explaining and also a lot of weird looks but were rewarded with some very good food – and as a result I could not eat Dolmades, Gemista or Gigantes for months after our return! ? Don't get me wrong, those are very yummy dishes – but even the best dishes lose their appeal after a while when you have them every single day. That was actually also the reason why we discovered some of the best Indian food we ever(!) had at Buddha Restaurant because I could not put another thing stuffed with rice into my mouth after about a week ?
If you just want a quick bite, the chain Gregory's – which you find all around Athens – also offers a vegan Spanakopita (a spinach filled pastry) which is actually pretty good. But here is another Athens must! Definitely stop at one of the many (mostly yellow) booths selling the traditional Koulouri, a toasty dough ring with sesame seeds. But beware: There are many version of it! The plain one should mostly be vegan – but be sure to double-check with the vendor though. There is also a version with tomato filling and one with tomatoes and olives – both are AMAZING and vegan as well.
This should have your basics covered for an initial visit to Athens. But: there is so much more to share about the plant-based movement of the city so stay tuned for the dedicated vegan food guide post which I'll put out once we finish eating our way through the vegan restaurants ?
☞ ☞ ☞
Follow my accounts on Instagram @elenatheis and @plantbased.around.the.world
☞ ☞ ☞
You can book me for (vegan) tours in Berlin! *
☞ ☞ ☞
Check out my books Shampoo Thoughts on Happiness and  #ANASHA – Die Reise beginnt and book me for a private reading event in your living room!
* Affiliate Link