Have you ever fantasized about having a Belgian Breakfast in Brussels? To be honest, I never have. In fact, I almost made it to my 40th birthday without ever having set foot on Belgian grounds. And if it wouldn't be for a special someone I probably would have made it well into my 50s without a Belgian experience in my life. But thanks to him today – out of all days on historic Brexit day – I stepped off a train at Brussels-Midi after quite an adventurous train ride. Just in time for: A Belgian Breakfast in Brussels…
A rocky start
I hopped on the ICE in Berlin shortly after midnight, fully equipped with a comfy pillow and warm blanket as I had the intention of getting a "decent night's sleep" on my night train ride to Belgium. I tried to check myself in with the DB App so the conductor wouldn't interrupt my holy sleep. Unfortunately I couldn't because apparently I had chosen a reserved seat with no indication of such. Great.
The train wasn't super busy and as I was in the noisy WIFI section anyway so I decided to move into the "silent wagon" and find an unreserved seat there. Said and done – this time I could even check myself in. Unfortunately the conductor had no indication of that either and consequently disturbed me anyway.
Cuddles & Conductors
About an hour into the journey, I finally cuddled up, leaned back and dozed off… For about 10 minutes, when a couple boarded the "silent wagon" in Magdeburg with loud laughter and even louder conversations. I thought the two love birds were just excited about going on a trip together and things aka they would calm down eventually. But nope.
Instead it got worse – aka louder – by the minute. Finally I was annoyed and tired enough to politely ask them to respect the silence in the silent section. After all, people were trying to sleep here. But just as I got up, some lady in the back of the wagon took over the job and yelled in their direction: "THIS IS A SILENT WAGON! If you wanna talk – sit somewhere else."
Thank you.
You'd think by now the noise makers would get the hint and finally shut up or be embarrassed enough to find another seat. But nope.
Instead they yelled back and told the lady to shut the F*** up. Afterwards they engaged in an even louder conversation about how obviously the lady must be a frustrated solo traveller who doesn't understand what it's like to be in a happy relationship. That's when I plugged in my headphones, hoping that my music would fade out the annoying couple. It worked and I finally fell asleep – shortly before we reached Cologne, where the announcement of our final destination woke me up again.
Cologne, Coffee & Kisses
By the time we reached Cologne, I was super tired but also happy because I was about to meet my love at the train station for a quick morning coffee & kiss get together. I had about 45 minutes before my connecting train. In theory. But unfortunately due to a major signal failure the train stopped right outside of Cologne Central Station – for 35 minutes! When I finally got off the train I had 8 minutes left to find my boyfriend and to catch my train. By the time I found my boyfriend I had 4 minutes left to find my train. Needless to say that the romantic morning coffee & kiss plan turned into a kiss and run event instead. Oh well, better than nothing.
But nope – continued
Finally I was on the last leg of my trip… hoping to get some more sleep on the 2-hour-ride. But before I got too comfy in my seat I wanted to use the restroom so this urge wouldn't wake me up again soon. But then I saw that the conductor had already started checking tickets. From my previous experience I knew that self-check-in did not necessarily prevent sleep interruption. Therefore, I decided to postpone my restroom trip until he had checked my ticket. Unfortunately he caught a fare dodger about half-way through. You'd think this person would be silently embarrassed after having been caught without a ticket. But nope.
Instead he started arguing with the conductor. The conductor stayed really calm and told him that he needs to leave the train at the next stop. Fare dodger refused. Conductor announced in return that he will inform the authorities who will remove him at the next station. Fare dodger grunted. Conductor left. And with him my plan of using the bathroom because now I didn't want to leave my stuff unattended in the presence of this "trustworthy" fellow.
Train stopped. Police came. Fare dodger left. I went to the restroom.
When I returned to my seat I could have slept but didn't dare to as now I was too worried to miss my stop.
Bonjour Brussels
10:07am. After about 24 almost sleepless hours I finally reached the hotel. Fortunately, I had listened to a little hunch the day before. It had advised me that investing €20 for guaranteed early check-in might be a good idea.  In fact it turned out to be an awesome idea because at this point all I wanted to do was take a hot shower and a nap.
I hit the sheets and was out – for 90 minutes, when hunger awoke me. The messed up sleep rhythm had left my body confused. By now it was 2pm. According to my cravings the perfect time for a Belgian breakfast with coffee and something sweet to "start the day".
To my pleasant surprise I found 3 all vegan eateries within walking distance from the hotel. Excitedly I set out on my Belgian breakfast mission in the early afternoon.
Bring on the Belgian Breakfast
Unfortunately the initial excitement didn't last long. Place number one only had fancy lunches. No cakes let alone a Belgian breakfast or waffles. Place number two turned out to be in the completely opposite direction of every other place I had on my agenda for the day. Needless to say, I didn't go even there. Finally, place number three had a big breakfast section on the menu with an additional disclaimer "Served all day". Yay, life was good after all!
I brought out my best French and ordered a croissant and a cappuccino. My enthusiasm faded quickly though, when the nice lady behind the counter said "Oh…je suis desolée" (= I'm so sorry!), as she pointed towards an empty basket next to her. I said "Moi aussi" and chose the waffles instead. After all I was in Belgium and that's one of the tings this country is known for. "Oh, je suis desolée", is what I heard in response again. Apparently waffles are completely off the menu – they just haven't taken them off the menu yet.
By now I was very desolée … and frustratedly ordered fries (at least another Belgian "delicacy") with veganaise and a cappuccino, hoping that cappuccinos weren't secretly taken off the menu as well. But apparently it was my lucky day and I finally received the much anticipated skim version of a "Belgian Breakfast":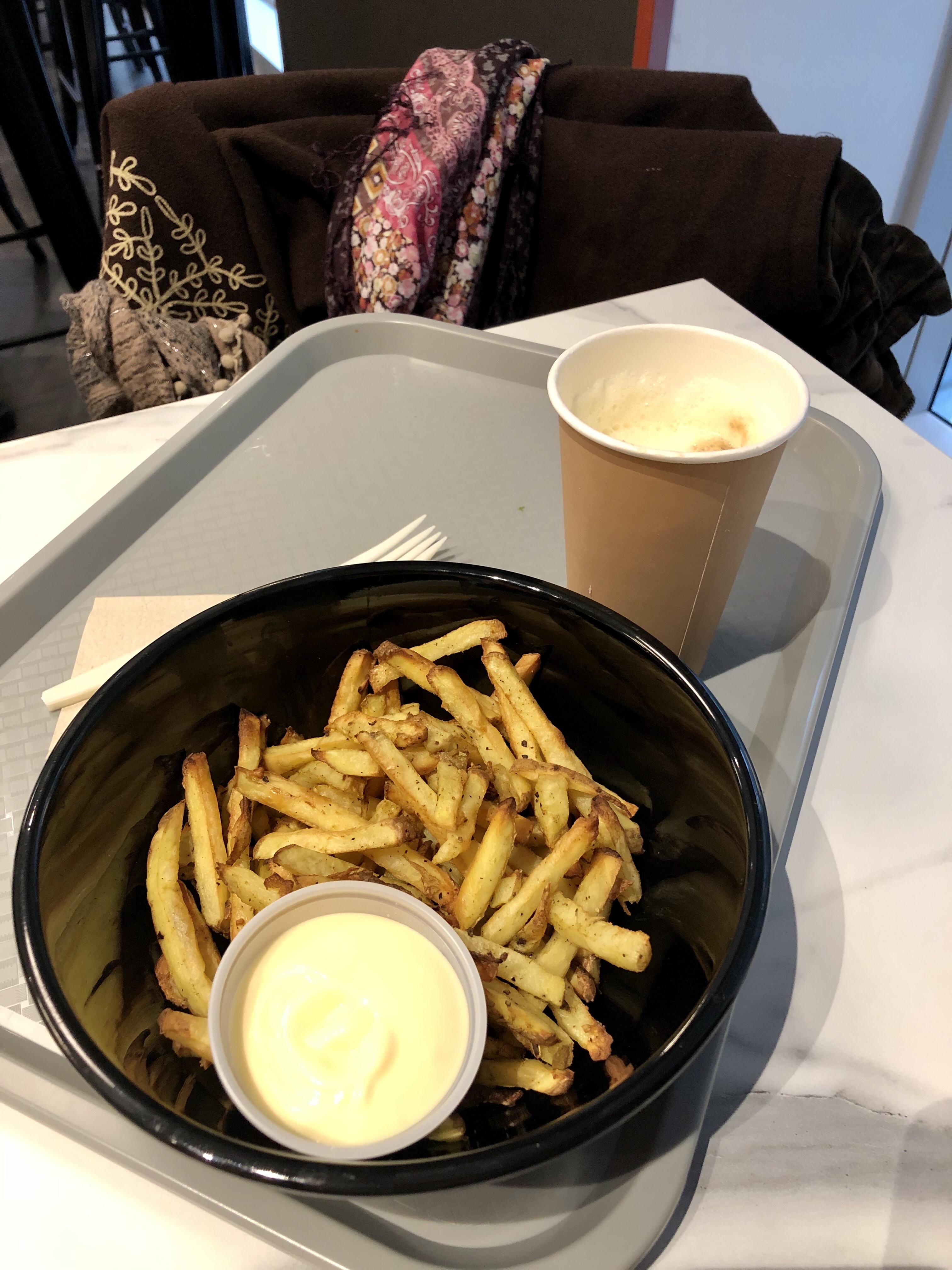 Breakfast Fantasies & Cappuccinos
As you can imagine this was not exactly what I had in mind when I set out on my breakfast mission. Actually I probably would have approached the food situation completely different had I known this was going to be the result. But oh well, at least the cappuccino part of my breakfast fantasy happed after all. And to my surprise this turned out to be one of the best cappuccinos I've had in a while! At least tastewise. In terms of sustainability there is room for improvement. Unfortunately they only serve paper cups  – even if you dine in. Usually I always carry a reusable cup* with me – but today  I had forgotten it in the hotel 🙁
Ok Brussels, I knew before coming on this trip that you are not exactly the most vegan-friendly of cities but I do hope you will have more in store that this in the days to come 🙂
I'm excited to see what else is coming my way – after all, we only just got started…
---
☞ Looking for breakfast inspirations? Check out the #VeganVentures recipe section
☞ Looking for a vegan-friendly city within Europe? Check out my previous article Aloha Athens
☞ If you're looking for the best (vegan) spots in Berlin You can book my (vegan) Berlin tours here! *
☞ Need a good read while traveling? Check out my latest book Shampoo Thoughts on Happiness
☞ For more #VeganVentures follow my accounts on Instagram @elenatheis and @plantbased.around.the.world
*Affiliate link